Framed Chain Link Mesh High Tensile Temporary Fence Panels
We provide galvanised steel chain link diamond wire mesh for permanent or temporary fencing use. Plastic powder coating treatment available for chain link fencing panels and frames. We supply Y post and barb wire arms, barbed wire and concertina razor tape to make chain link temporary fence a better security fencing system.
Framed Mobile Fence Panels Infilled with 60x 60 mm Opening Chain Link Mesh

Material: Low carbon steel wire, stainless steel wire, aluminum alloy wire.
Typical Sizes: Panel 2m high x 3 m wide; frame: 33 mm diameter, 3mm galvanized hot dipped pipe.
Infill: Chain link mesh: wire diameter: 3mm galvanized wire, 60x60 mm diamond opening. Mesh height of 1.8 tvtx3m wide. Galv. clamp fence feet.
Weaving: The chain link weave net in diamond pattern provides strong, durable and flexible construction. The closely spaced diamond mesh construction gives the mesh fence linear strength and springy texture ideal for temp fencing uses.


Chain Link Diamond Opening Mesh wire construction enjoys following benefits:
Thick galvanised and powder coating treatment ensure longer fencing life;
Strong;
Safe and flexible;
Does not sag or roll up at the bottom.



Surface Treatment Options

Plastic Coating: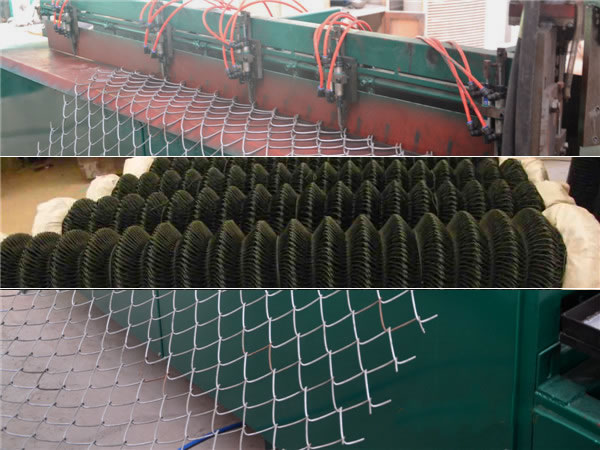 Vinyl Coating: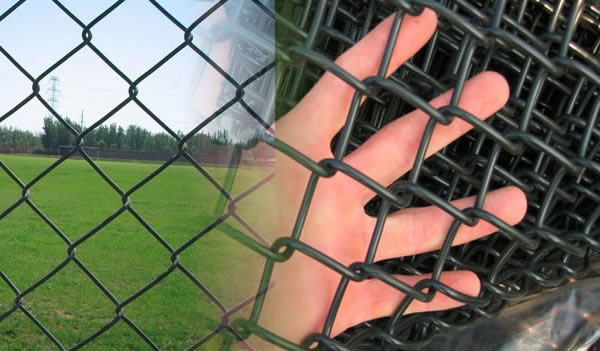 Galvanising and Hot Dipped Galv.:

Galvanized steel chainlink fencing for sports field, river banks, construction and residence, also animal fencing and construction sites, municipal projects and events fencing uses.
Export Sizes Options
Opening
1"
1.5"
2"
2.25"
2.4"
2.5"
3"
4"
25mm
40mm
50mm
55mm
60mm
65mm
76mm
100mm
Wire diameter
18#-7#
1.20mm-5.00mm
Length of the roll
1.0m-50m
Width of the roll
0.5m-5.0m
Materials and specifications can be made according to customers specific requirements.
Y Posts
Y type steel fence posts: 
For protective wire mesh fencing of express highway and express railway;
For security fencing of beach farming, fish farming and salt farm;
For security of forestry and forestry source protection;
For isolation and protecting husbandry and water sources;
Fencing posts for gardens, road and houses.
Advantage of Y fence post:
This kind of fence post enjoys an improved rate of 30% in its mechanical property and physical  propery compared with common steel posts with same section size;
Have nice appearance. Easily used, with a low cost;
Long service life.
 Steel fence posts, Y Posts Options
Material
Billet steel
Length
1.35m,1.5m,1.65m,1.8m,2.4m etc.
Weight
1.58kgs,1.86kgs,1.90kgs,2.04kgs/m etc
Surface
painted, Hot dip galvanized, No paint
Usage
farm fencing,garden fencing
Packing
400pcs/pallet
Production QTY:
1000tons/month
MOQ:
1tons
Delivery time:
20-30days after payment
Payment terms:
T/T,L/C
Security Fencing Topping Options

Chain Link Mesh + Razor Wire Flatwrap

Series of razor wire flat coils clipped into the wire mesh fence panel greatly improve security effectiveness. Made into 500mm or 900mm high normally.
Chain Link Fence Panel + Concertina Razor Tape Coils


High Security Razor wire ribbons with Y Posts support arms, modern security fencing materials with better protection and fencing strength. Made of hot-dipped galvanized steel sheets or stainless steel sheets.

Illustration for Chain Link Fence with Concertina Razor Tapes
Chain Link Mesh Fabric + Metal Mesh Gates + PVC Coated Galvanised Barbed Wire Fencing System

Double Leaf Gates with Barbed Wire, Parts of Chain Link Security System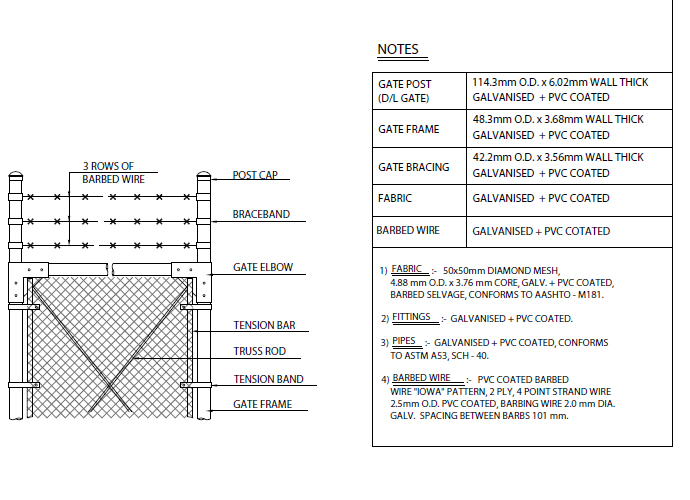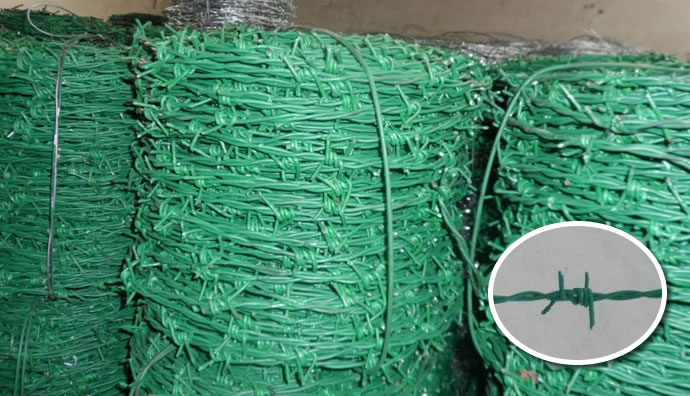 Chain Link Fence + Barbed Wire 3 Rows + Razor Tape Concertina Coils

Diamond Mesh Holes 50x50mm with Barbed Wire PVC Coated Galvanised and Razor Tape Concertina Coils
Fabric: 50x50mm diamond mesh, 4.88 mm O.D. x 3.76 mm core, galv. plus pvc coated,barbed selvages; 
Fittings: Galvanised and PVC coated. 
Steel pipes / tubes: Galvanised and PVC coated, conforms to ASTM A53, SCH - 40. 
Barbed wire: Galvanised + PVC coated, "IOWA" pattern, 2 ply 4 point strand wire 2.5mm outer diameter. Galvanised barbing wire 2.0 mm diameter. Spacing between barbs 101 mm. 
Concertina razor tape coils: Galvanised medium blade razor tape concertina with 2.50mm galvanised steel core wire,0.5 mm thick barbed tape. Supplied in coil diameter 90mm. Meeting international standard.