Steel Tube Framed Welded Mesh Fence System
We supply welded type mesh fences for temporary mobile security fencing uses. Mesh Panels can be flat welded and dimensional curvy panels.
2M High Mobile Fence Welded Type
Frame: 33 mm diameter, 1.5mm galvanized hot dipped pipe
Infill Mesh Fabric: Welded mesh in opening of 250 mm x 50 mm welded of 3mm galvanized wire.
In height of 1.8 m and width of 3 m.
Supplied with fence feet: 240X130X540 mm pvc base filled with concrete; and galvanized steel clamp.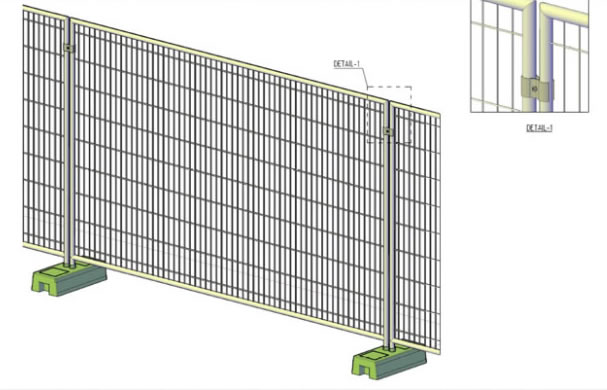 Yellow or Green Painted Welding Mesh Fence Panels, Welded temporary fence with square tube
Welded Mesh Mobile Fence System with optional toppings of Barb wire for military or security purpose, for example: ISPS International Ship and Port Facility Security reasons.
Anticlimb panels options:
Pvc spraying(galvanized before pvc)
PVC coated(galvanized before pvc).

Welded net temporary fence with square tube forms anti-climb panel while square tubing allows for easy stacking.
Mesh panel length: 2.1m * 2.4m
Wire diameter: 4mm (3.5mm-5mm)
Opening: 60mm * 150mm
Horizontal tube: 38mm; standpipe: 48mm: thickness: 2.0mm
Surface treatment: hot galvanized, pvc color painted

This plastic coated fence is mainly for storage, playground, venue, municipal and other occasions, temporary barriers.
Barbed Wire Options Installed along top of welded mesh panels to form a high security fencing.

Barbed wire fencing tapes processed from either galvanized steel sheet and wire or stainless steel sheet and wire.
We offer electro-galvanized, hot-dip galvanised, PVC coated galv. steel barb wire coils. Barb wire tapes are widely used together with various mesh fence panels to form security fencing barriers. It is used by many countries in military field, prisons, detention houses, government buildings and other national security facilities.
Hot Dipped Galvanized Steel Welding Type Mobile Fence


Welded galv. steel mesh panels offer more firm structure and longer service life compared with woven wire mesh.
Vinyl Coated Welded Mesh and Fence Panels
Height: 1800mm, 2100mm
Panel Width Options: 2300mm, 2400mm, 2500mm, 2600mm
Wire dia: 3mm, 3.5mm, 4mm, 4.5mm, 5mm
Portable fence fabric Mesh: 50mm×50mm, 75×75mm, 50100, 50×150, 50×200, 75×150mm
Pipe frame: O.D.25mm, 32mm, 40mm, 42mm, 48mm
Wall thickness options: 1.5mm, 2.0mm, 2.5mm, 3.0mm wall thickness
Finishes:
Electro galvanized then vinyl powder coated;
Hot dip galvanized then powder coated.

Metal mesh panels with powder coating enjoy weather resistance, precise construction, uniform opening, excellent corrosion and rust resistance.
Welded Mesh Panels Size Options
Openig
2 x 2
2 x 4
2 x 8
3 x 4
50mm x 50mm
50mm x 100mm
50mm x 200mm
75mm x 100mm
Wire Diameter
10#-8#
8#-6#
3.5-4mm
4-5mm
Size of Fence
1800mm x 2900mm , 2000mm x 2300mm , 2000mm x 3500mm
Square Tube
1 x 1. 1 1/4 x 1 1/4 ,1 1/2 x 1 1/2
Custom sizes accepted.

Need higher level of security? Choose our 358 welded mesh panels.