Framed Steel Mesh Panels for High Security Fencing, Offered with Posts and Fittings, Galvanized and Powder Coated
We supply two types of curvy 3D mesh panels: common curvy 3D welded mesh panels and 358 high security welded 3D panels. Made of low carbon steel wire, galvanized wire and stainless steel wire. The anti corrosion treatments include electric / hot-dipped galvanizing, PVC spraying or PVC dip coating. 3D Panel Fence Systems are anti-climb modular fencing used in a wide range of perimeter and boundary security applications. High security 358 mesh fence provides high standard security for prison, military facilities and etc.
Production Process: With whole process under Quality Control System
Panel Processing: Wire Drawing → Wire Straightening & Cutting → Wire Material Inspection - Mesh Welding → Folds/Curves Bending → Electric Galvanizing/ Hot-dipped Galvanizing → Parkerizing → PVC Coating /Spraying → Packing
358 High Security Welded Fence Panels
Thanks to the mesh size, intruder can not climb it or easily cut it. What's more, profiled panel and panel with addtional wire can make it more unbreakable and different post options are available for you to choose.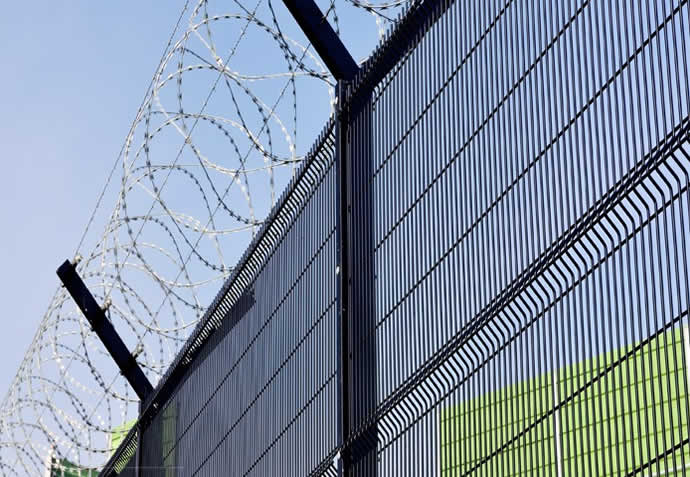 Panel Styles Options:
2D plus mesh panel- Flat with additional wire
2D panel without curves
2D plus with one additional horizontal wire every 11 mesh
3D Mesh Panels.
Sizes Options for 358 Mesh:
Mesh size
Height
Width
Line wire x cross wire
Post length
Nos. Of brackets
76.2x12.7mm
2100
2500/2750/3000
3.0x4.04.0x4.04.0x6.0
2700
7
2200
2500/2750/3000
2800
8
2400
2500/2750/3000
3000
9
2700
2200/2300
3700
10
3000
2200/2300
4000
11
3600
2200/2300
4800
12
4000
2200/2300
5200
14
Steel Posts Options:
Hot Dipped Galvanized and Powder Coated or Painted
1. C post with flat bar: 60x80mm, 80x100mm,100x150mm with wall thickness 2.0-5.0mm;
2. Square tube post: 60x60mm, 80x80mm, 100mmx100mm with wall thickness 1.2-1.5mm;
3. Rectanular Post: 60x80mm, 80x100mm,100x150mm with wall thickness 2.5-5.0mm;
4. IPE post: 100x55mm, 100x68mm, 120x74mm with wall thickness 1.2-2.0mm;
5. Round tube post: 48mm, 60mm.

Fittings:
Hot Dipped Galvanized and PVC Powder Coated or Spray Painted
1) Steel clips or plastic clips
2) Plastic anti-water caps
3) Base plate for fence: 500x300x300
Fence Tops Options:
Barbed Wire;
Razor wire coils;
Concertina wire.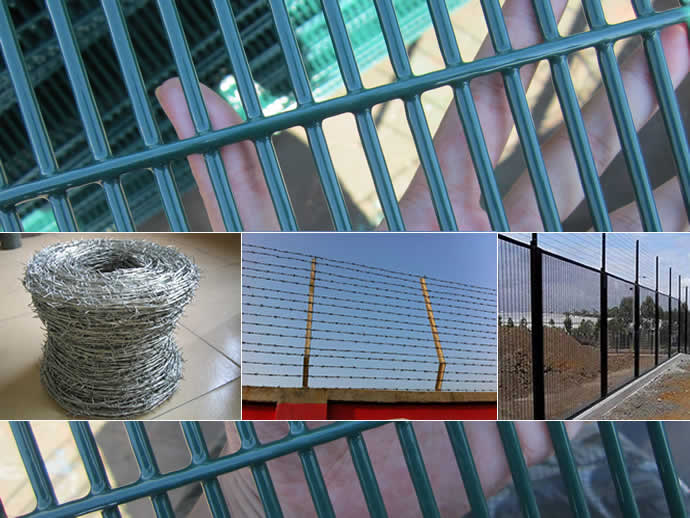 Common Commercial Grade 3D Welded Fence Panels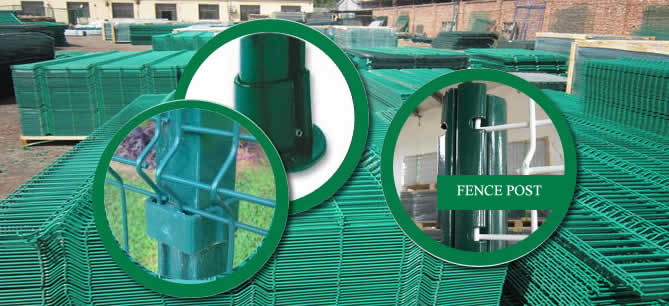 Weld Mesh Galvanised Panels with square post
Specification of Square Post
Size: 40*40mm, 40*60mm, 60*60mm, 60*80mm, 80*80mm
Thickness: 1.2mm, 1.5mm, 2.0mm
Height: 1.8m, 2.0m, 2.3m, 2.5m
Surface treatment: Hot dipped/Electro galvanized then pvc or power coated
Clips: Plastic clip, rain hat
Welded Steel Mesh Panels with round post
Specification of Round Post
Size: 38mm, 48mm, 50mm, 60mm, 70mm, 80mm
Thickness: 1.2mm, 1.5mm, 2.0mm
Height: 1.8m, 2.1m, 2.3m, 2.5m
Surface treatment: Hot-dipped/Electric Galvanized then PVC painted
Clips: Plastic clip, rain hat
Galv. Welded Wire mesh fence with peach post
Specification of Peach Post
Size: 50*70mm, 70*100mm
Thickness: 1.0mm, 1.2mm
Height: 1.8m, 2.1m, 2.3m, 2.5m
Surface treatment: Electro/hot-dipped Galvanzied then PVC painted
Packing: The wire mesh fence is packed with plastic film then outside with pallets
Common Security Grade Curved Mesh Panels:
Panel Size
Wire dia.
Mesh size
Curves
Surface treatment
Height
Length
1030 mm

2000mm
2100mm
2200mm
2500mm

3mm-6mm
50x75mm
50x100mm
50x150mm
50x200mm
75x100mm
55x200mm
60x150mm
2
Electro GI+PVC coated
Electro GI+PVC painting(Spraying)
hot-dipped GI only
Hot-dipped GI +PVC coated / painting
1200 mm
2
1500 mm
2 or 3
1530 mm
2 or 3
1700 mm
3
1730 mm
3
1800 mm
3 or 4
1930 mm
3 or 4
2000 mm
4
2030 mm
4
2400 mm
4
Surface Treatment Options for 3D Mesh Panels, Common and High Security
| | |
| --- | --- |
| Surface Treatment | Min. |
| Electric Galvizing | 20/m2 |
| Hot dipped Galvanising | 35g/m2 |
| Powders Coating (PVC or Vinyl) | 100 microns |
| PVC/PE dip coating | 400 microns |