Temporary Mobile Fence Panels for Construction Site Isolation
We supply temporary or mobile fencing for construction site security barrier uses. Temporary fencing is used when an area needs barriers for the purposes of public safety or security, crowd control, theft deterrent, or equipment storage. It most commonly used as security fencing for building and construction sites. Other uses for temporary fencing include venue division at large events and public restriction on industrial construction sites. Temporary fencing is also often seen at special outdoor events, parking lots, and emergency/disaster relief sites.
This mesh fence is mainly used to block the construction site of various municipal engineering projects, building of airports, sea ports, highway, gardens, pools and etc.
Fence Panels Options: Welded mesh panels, chain link mesh panels, expanded metal panels, steel tubular panels.
Finish of surface: Hot dipped galvanized, electro galvanized, PVC coating, PVC spraying, PVC after galvanized, paint spraying etc.
Australia Market Type Mobile Temporary Fence

White vinyl powder coated welded wire structure
Common sizes:
Height: 1200mm
Width: available in 2300mm,2400mm,2500mm.
Wire dia. 3mm,4mm,5mm
Pipe: 32mm pvc coat and GI
Also custom specification as per customer's requirements.
Welded Mesh Construction Mobile Fence

For events control barrier to prevent the crowds, people, animals and vehicles from entering certain dangerous areas.
Features:
Anti-climb panel
Square tubing allows for easy stacking
Spiked top and bottom for additional security
Drop together assembly
No heavy concrete bases required
Wire and Mesh Options
WIRE DIAMETER
MESH
Inch
MM
2.5mm/3.0mm
4" x 4"
101.6mm x 101.6mm
2.5mm/3.0mm
4" x 3"
101.6mm x 50.8mm
2.0mm/2.5mm
4" X 2"
101.6mm x 50.8mm
1.9mm/2.4mm
3" X 2"
75mm x 50.8mm
1.9mm/2.4mm
2" X 2"
50.8mm x 50.8mm
1.9mm/2.4mm
2" X 1"
50.8mm x 25.4mm
Tube Framed Safety Fence Panels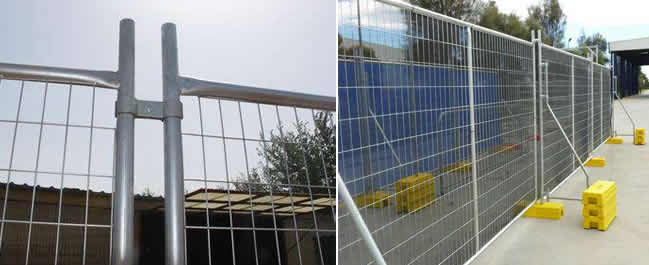 Expanded Steel Mesh Panels for Projects Safety Barrier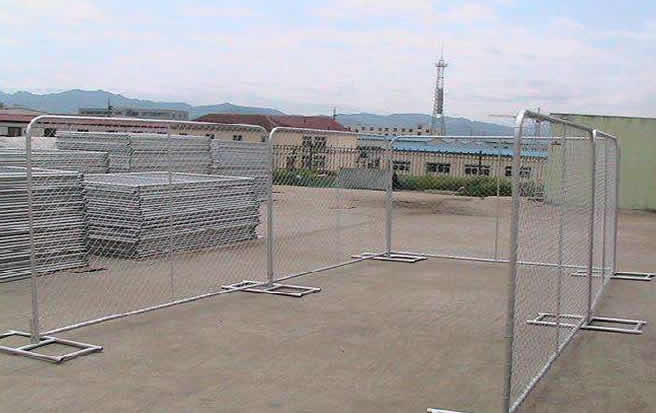 Stretched metal fence is mainly used for the following situations:
Commercial Construction Sites
Domestic Housing Sites
Pool construction
Sporting events
Concerts/ Parades
Local Council Work Sites
Crowd Control

Galvanized Steel Tube Mobile Temporary Fence
Temp fence used in exhibition or temporary traffic control
Features: Easy set up and take down; Ideal for industrial work area separations.
Sizes: The wire mesh fence barrier can be made of the round tube, any size can be made.
Round Tube: dia.25 32 40 42 48mm
Thickness: 0.5mm, 0.7mm, 1.0mm, 1.2mm
Panel: 1.0x2.0m, 1.5x2.0m, 2.0mx3.0m, 1.2x2.5m, etc
Finish Options: Electro galvanized, Hot dipped galvanized, PVC coated and painted.